Stakes
Whether you are working on a construction project that needs staking, landscaping, or starting a garden, we carry and can provide a full line of precision, wooden grade stakes. Choose from Poplar, Pine or Oak in the following sizes to complete your next job:
1x2x18″
1x2x24″
1x2x36″
1x2x48″
We also carry wooden hubs (slightly larger than stakes) and currently stock them in Oak and 2x2x9″.
Wood stakes are used for various purposes including outlining driveways and gardens as well as surrounding trees to stabilize them as they grow. Outlining gardens can prevent animals from causing harm and it can allow you to better organize where you grow certain plants. Similarly, outlining your driveway or walkways protects your yard from unwanted tire tracks and feet. Tying trees to stakes can help support them as they get taller so they don't bend or fall over. 
Markers for Construction Sites 
Stakes are also commonly used as markers for construction projects. Whether you're building new houses, installing irrigation systems, or resurfacing roads, construction teams can use wooden stakes to ensure everything gets built or repaired correctly.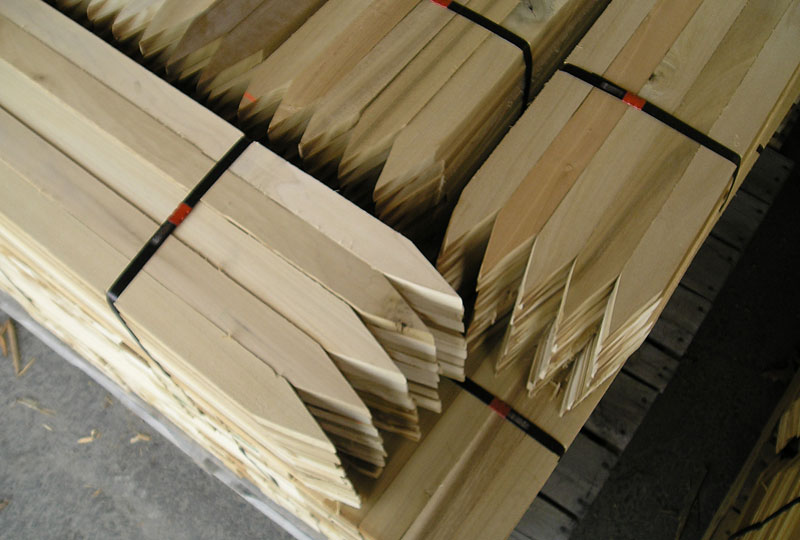 Custom Stakes & Hubs
We can make any custom size stake or hub if our sizes do not fit your specific needs. If you are interested in ordering custom sizes or have questions, please contact us or request a quote below.