Making Sense Financially
Caring for the Earth is everyone's responsibility. For businesses, this means designing and using the most environmentally friendly products and creating new ways to reduce waste.
In order to take better care of our planet, the wood pallet industry is working hard to meet the challenges of pallet disposal. The industry's efforts are the result of a wide-eyed awareness of its customers' environmental concerns, including the issues of landfill capacity and higher disposal costs.
The pallet industry's goal is not only to safeguard the environment but also to provide its customers with practical, cost effective ways to recycle their pallets. This mission has led to a systemic approach that begins with high-tech pallet design and incorporates quality assurance, pallet standardization to promote reusability and a pallet retrieval and recovery system that allows customers to reuse pallets over and over again.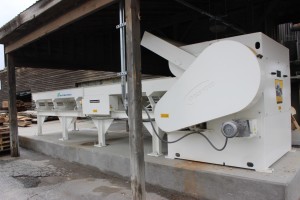 While pallet recycling is environmentally and economically smart, concerned companies need to lend a hand in order to reap the benefits. If you purchase the cheapest pallets available, chances are you will have to buy more pallets and have greater difficulty recycling them. Before you buy, carefully consider how you can get the most out of your pallets during their life cycle and what you'll do with them after they're worn and damaged.
Increase the value of your pallets & make recycling easier
Start with wood pallets. Wood is the only material that is reusable, repairable, recyclable and made from a renewable resource.
Buy properly designed, high quality pallets. In the past, pallet users saw initial purchase price as the primary, if not only, criteria for purchasing pallets. Today, a growing number of smart pallet users employ more useful criteria for purchasing pallets – cost per trip. For those who are able to use multiple trip pallets, buying pallets based in cost per trip can mean substantial long-term savings and fewer pallets in the waste stream.
Send to a pallet recycler. After several uses, send a worn or damaged pallet to a pallet recycler to be repaired, not to the landfill.
Pallet is repaired & recycled. After the pallet has been repaired it can be recycled and reused and the process repeats itself until the pallet can no longer be repaired.
High quality pallets are easier and more likely to be repaired and used repeatedly, which benefits the environment and your finances.